If you haven't set your Default Discount or accidentally received a product order into inventory with the incorrect discount, you can now update your current cost of goods wholesale value with the click of a button.
---
Default Physical Count Wholesale Value
The value set in the Default Discounts (Product menu >Inventory Order > Settings) will be used when automatically calculating the Wholesale amount in the Physical Count form.
---
Split Set Wholesale Value
When manually splitting a set, Boulevard will now also use the Default Discount and calculate the wholesale based on the number of items included in the set. View
---
Clear Negative On Hand Amounts
We've added an additional option to choose from when clearing On Hand inventory. You can choose to only clear Negative On Hand amounts from your inventory.
Note: Before clearing your current inventory amounts, we recommend that you take a backup first. Once cleared, the operation cannot be reversed.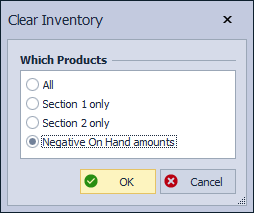 From the

Product

menu, select

Product List (or from the Products - Inventory group on the main toolbar, click Inventory).
Using your keyboard, press + + .
Under Which Products, choose either All, Section 1 only, Section 2 only, or Negative On Hand amounts, then click OK .
Click Yes to confirm removing on-hand amounts for Section 1, 2, All inventory, or Negative On Hand amounts stored in Boulevard.