We recommend that you take a backup of your current Boulevard software. When backing up to a physical drive, even if the backup process completes successfully from Boulevard, there could be hardware failure with your computer's hard drive, external drive, or flash drive.
To avoid loss of data due to hardware failure, viruses, etc. we strongly suggest backing up to a cloud-based solution such as Dropbox, OneDrive, or Google Drive. (See Remote Back up to the Cloud Automatically for more information.)
Taking a backup:
From the File menu, select Backup.
In the Save File As window, navigate to where you'd like to save the .zip back up file, then click Save.
Click OK to acknowledge that the backup process is complete, then close Boulevard completely.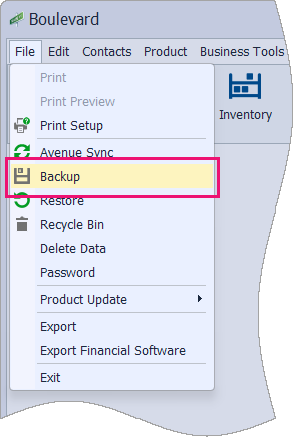 To restore a backup, see Restore a Boulevard Backup File for more information.