The following are options on how to track the shipping amount associated with customer orders depending on whether or not the cost is being passed on to your customer. 
Charging the Customer for Shipping:
Add the amount to be collected to the Shipping field.
Select the Tax  to change whether tax will be calculated on shipping for this invoice only. (The default setting can be changed under Preferences > Sales tab.)
Not Charging Shipping:
When Direct Ship is chosen as the Sales type on the invoice, select the Shipping/Delivery tab and check the box, Add Freight to Product Order. Enter the amount that MK charged for shipping. (The amount will be recorded under the Postage category in expenses automatically.)
All other invoice Sales types will need to be recorded in your expenses manually using the information from the postage receipt when the package has been mailed.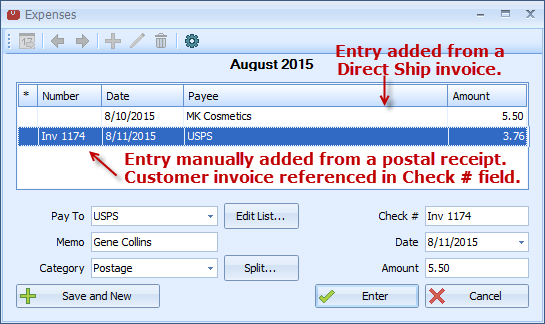 ---