You can create and maintain custom lists to group contacts from either the Customer, Address or Unit list which then allows you to create mailing labels and send a group email using the lists you create.
Toolbar & Fields: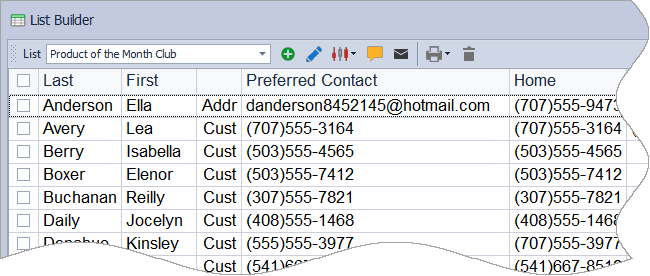 List (1)

Displays the contacts included in the specific list created. Select a list in the box to view, edit or delete it.

New (2)

Select to create a new list.

Edit (3)

Select the list to edit from the List drop-down, then click this button to edit the list.

Delete (4)

Select the list to delete from the List drop-down, then click this button to delete it.

Customize (5)

Add or remove columns from the list displayed

Call Note (6)

Create an entry in their Contact Log.

Email (7)

Create an email if one contact is selected, or a group email if multiple contacts are selected.

Print (8)

Choose to send the list to print or preview a report, or mailing labels.
Note: C indicates a customer contact, A indicates an address contact, and U a consultant.
Show drop-down list: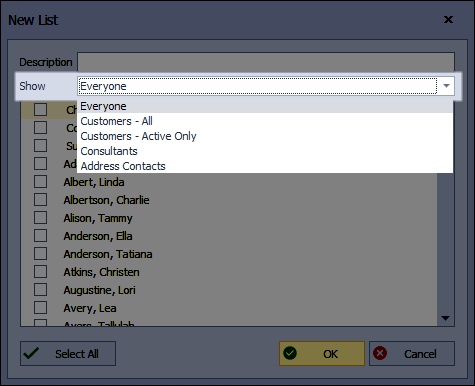 Everyone

Displays contacts from all three lists.

Customers All

Displays active and inactive contacts on the Customer list.

Customers Active Only

Displays only contacts from the Customer list that is not marked inactive.

Consultants

Displays all consultants located on the Unit List.

Address Contacts

Displays all contacts located on the Address List.
---