Contacts can be filtered if necessary and labels printed (or exported) from the Mailing Labels form or from any of the contact lists in Boulevard.
From the Business Tools menu, select Mailings, then Labels (or from the Reports - Tools group on the main toolbar, click
Mailings, then Labels).
Select the desired list from under the Which List section.
From the Label Type section, select the type of label being printed on.
Select additional filtering criteria under the first Filter drop-down.
Decide which name is to be displayed on the labels under the Using Name section.
Click Print, then from the preview window, click to print (or to export as a pdf).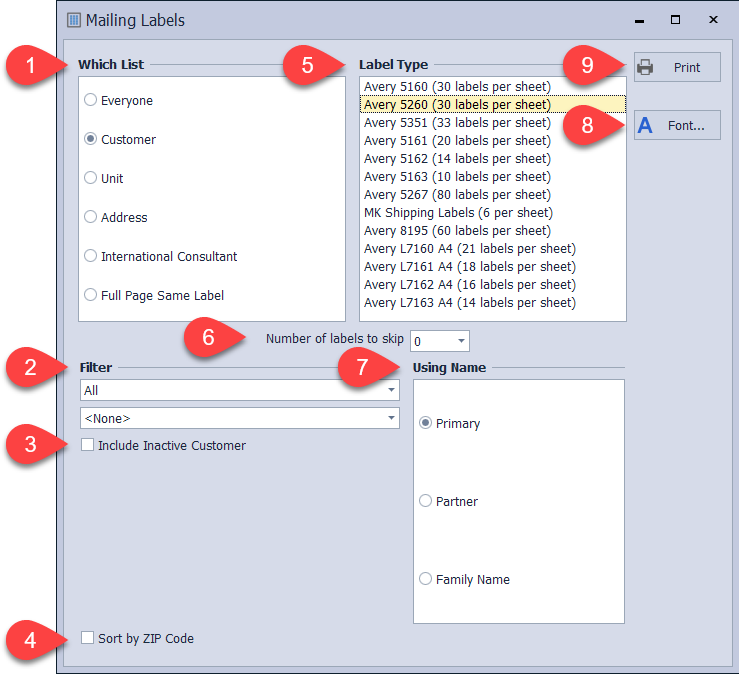 (1) Which List: Choose the type of contact or Full Page Same Label. (Full Page Same Label can be used to create your return address or a special label such as a discount or upcoming promotion).
(2) Filter: Default filter for lists is All.
(3) Include Inactive Customers: Additional filter option applicable with Everyone and Customer List.
(4) Sort by Zip/Postal Code: Additional option to display contacts by Zip/Postal code.
(5) Label Type: Choose the Avery or MK Shipping Label you're printing on.
(6) Using Name: Choose from Primary, Partner, or Family name to be printed.
(7) Print: Will launch a preview of the labels to view the contacts and font before printing.
(8) Font: Customize the font type, weight, size, and effects.