There are a couple of ways to get caught up and enter past customer sales information into Boulevard depending on whether your on-hand inventory is accurate or not.
Entering Itemized Invoices
Option 1: Inventory is NOT Accurate
If your on-hand amounts are not accurate you can create each invoice using the original transaction date. When finished, follow the steps to Clear On-Hand Inventory Amounts, take a physical inventory count, then create a Edit Physical Count Directly On the Product List.
---
Option 2: Inventory is Accurate
If your on-hand amounts are accurate follow the steps below to create a Historical invoice, entering the date from the original transaction.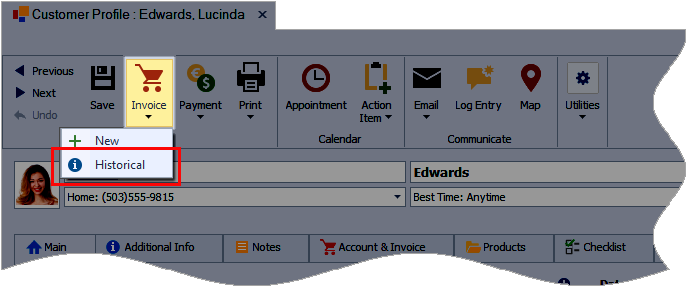 From the contact profile toolbar select Invoice, then Historical from the drop-down options listed.
Click Yes confirming that you are creating a historical invoice.
When finished creating the invoice, click OK .