If you receive an error similar to "The SMTP server requires a secure connection or the client was not authenticated. The server response was: 5.5.1 Authentication Required." you will need to log into your account and take a couple of steps for additional security. The links below will guide you through the process.
Option 1
(recommended)
Step 1: Create and use an App Password
Step 2: When finished with Step 1 from above, enter the newly created App Password into the Password field in the Email Settings pop-up form following the steps below.
From the Edit menu and select Preferences.
From the Online Sync tab, click the Settings button.
Under the Account section, enter your Gmail address and the newly created App Password in the Password field (as shown in the image below).
Click Test to ensure the password and email address were entered correctly, and that the connection has been established.
If successful, a message will be sent to the email address entered with the following Subject Line: Test Email from Boulevard. Click OK confirming, then OK to save and close the Email Settings form.
Click OK to save and close Preferences.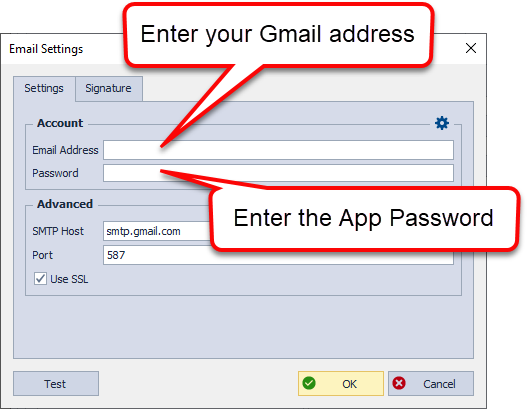 Important Note: If you ever change the password to your Gmail account, you will need to create a new App Password for Boulevard following the steps above.
---
Option 2
Turn on access for less secure apps View
Important Note: Periodically, Gmail will turn this setting off if it is not used. If it gets turned off, you will need to turn it back on to send email from Boulevard if you are using this option.
---
Additional Information: