When you mark an amount on an invoice as paid by credit card, the invoice is considered paid in full and will show in that contact's account balance as a completed transaction. However, until you process the actual credit card, you have not yet received the payment, so the amount is still outstanding. Boulevard tracks your credit card receivables and allows you to record them as they come in.
Important Notes:
Your ProPay account information must be linked in Boulevard. See article Link ProPay in Boulevard
Credit card information needs to be added to the contact's profile before a payment can be processed.
For the security of both you and your customer, Boulevard does not store credit card information. If card number or expiring information needs to be updated, the card must be deleted, then re-added. See article Add or Remove Customer Credit Card Information.
For security purposes, credit card information is accessed differently in Boulevard than from ProPay's website. Even if credit card information has been previously saved into ProPay through their website, it must be entered in Boulevard to utilize the credit card processing feature.
Submit Payment to ProPay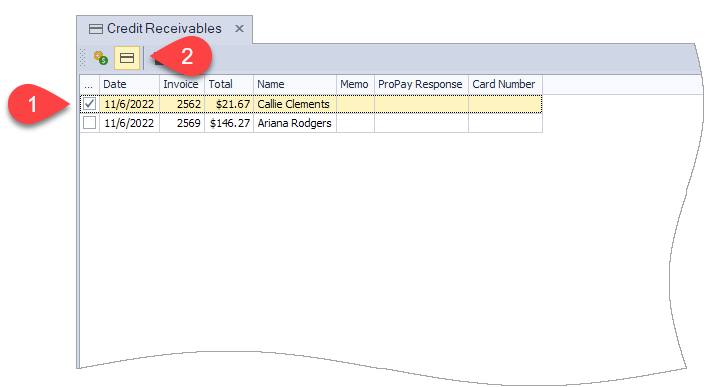 From the Business Tools menu, select Credit Receivables, (or from the main toolbar click Credit Receivables).
Select the checkbox next to each transaction to be submitted.
From the Credit Receivables toolbar, click .
---
Approved Payments
If the payment is approved, the transaction will disappear from Credit Receivables, and the fees associated with the transaction will automatically be posted to Expenses according to the fees set in Preferences.
---
Declined Payments
If the payment is declined, the transaction will appear in red along with the reason in the ProPay Response field. After correcting the issue, the payment can then be resubmitted.
Right-click Menu Tips:
Edit Memo

To add or edit the memo field for the transaction

Manage ProPay Credit Card

To add and/or change the credit card information

View Profile

To open the contact's profile
---