Tip: Additional information will display when hovering over a button.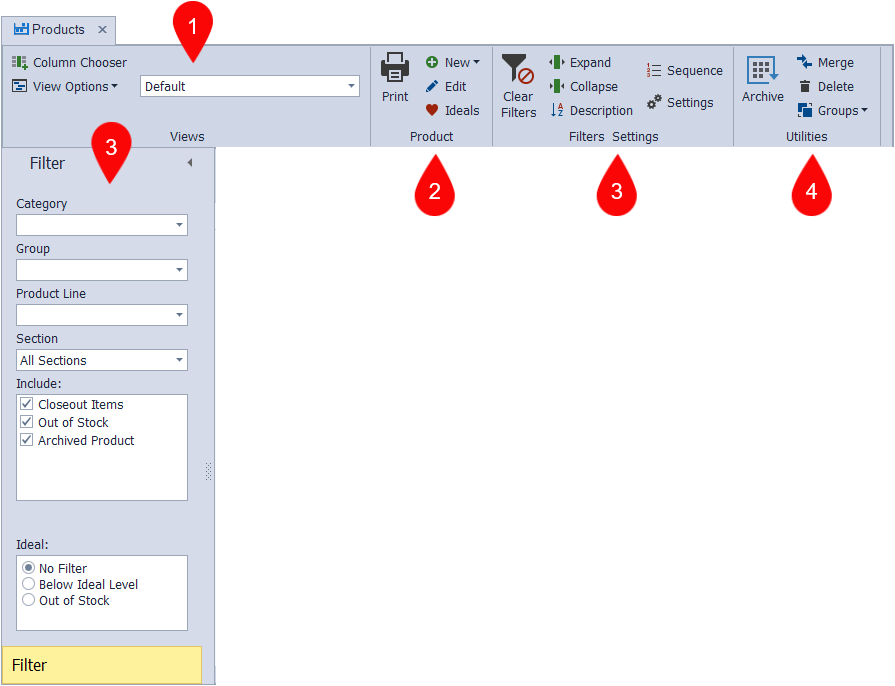 By default, the Filter sidebar will be displayed as a slide out to the left of the product list. Alternatively, you can choose to use a filter button option from Application Settings (Uncheck Use filter slide outs from the List tab).
Category: The category where the item is located
Group: The grouping of the item based on the type of product
Product Line: Another level of grouping that coincides with brand lines
Section: The highest level of grouping to differentiate between items intended for resale (e.g. sections 1 & 5), and items that are business supplies (e.g. section 2)
Include: Option to include items that are no longer on the current order form or items that are out of stock
Ideal: Option to choose either no filtering, items that are below the previously set ideal level, or out of stock entirely
---
Clear Filters: Clears any filters set
Expand: Expands the categories
Collapse: Collapses the categories
Description: Sorts the products alphabetically within each category
Sequence: Sorts the products sequentially following the order form (or what has been set in the profile) within each category
---
Settings
Show grid lines: Option to display the grid lines on the form itself
Alternate row colors: Option to alternate the colors of each row on the grid
Landscape: Option to print the view in the landscape format
Subtitle: Option to enter additional information to be printed on the report
Do not Track Section 2: Option to not track section 2 on-hand amounts (Section 2 are business supplies - the cost is a tax write-off, therefore, it is unnecessary to track the quantities of each item.)
Do not Track Deluxe Minis: Option to not track Deluxe Minis or customer premium on-hand amounts (It is unnecessary to track for tax purposes as they are section 2 as well. Option is for inventory stock purposes.)
Ideal Amounts: When the Default view is displayed, and the Ideals function is used, the number of months entered in the Ideal Amounts field will be used to calculate the amount of inventory to keep on hand based on the past year of sales (e.g. if you sold 36 in the previous year and want to keep 1 month on hand, the ideal level for the item would be 3).
---
Additional Information: