Choose from one of the following options to initiate an new invoice:
From the contact's profile tool bar, click .
From the Shortcuts form, click Create New Invoice.
On the main toolbar, select the button.
Select the contact's name then right-click and choose New Invoice
Create the hostess' invoice:
Enter the date the class was held in the Date field, and choose the invoice type from the Sale drop down options as Class.
At the bottom of the invoice, click on the Weekly Accomplishment tab and enter the class information into the respective fields for the hostess' invoice only, leaving the Orders field at 1 (this field will be updated on the Weekly Accomplishment Sheet automatically).
Ensure that you have entered the Hostess Name exactly as Boulevard uses this information along with the invoice Sale type and invoice Date to link the invoices together as a class.
Add the items purchased by the hostess on the invoice.
When finished, click   OK   to save and close the invoice form.
Create each additional guest's invoice and ensure that the Hostess Name matches, the Sale type is set to class and that the Date entered is the same as the hostess' invoice.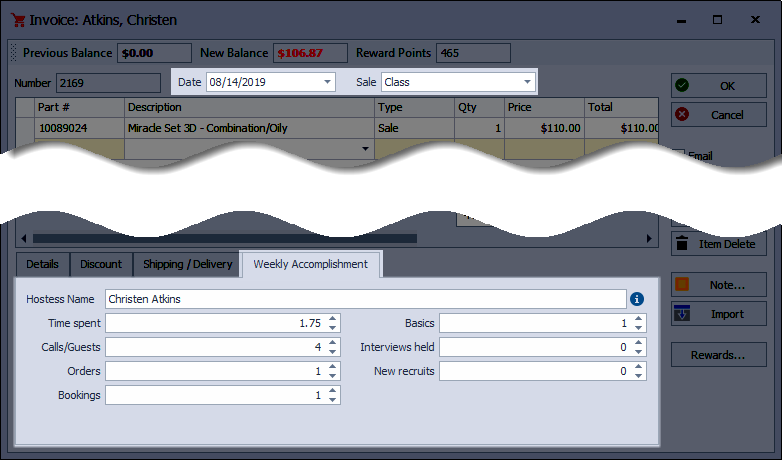 ---
To View Class Invoices together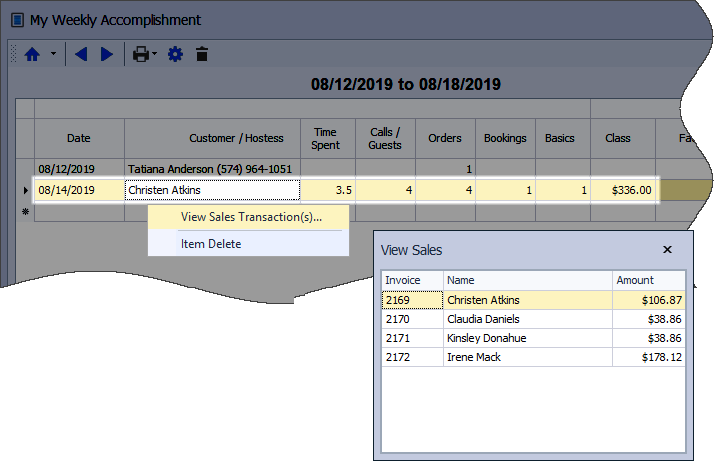 From the Shortcuts form, click My Weekly Accomplishment (or from the Business Tools menu, select My Weekly Accomplishment).
Go to the date the class was invoiced using either , , or  tool bar buttons.
Right click on the row, and select View Invoice(s) to view the invoices included in the class.
---