The Sales Transaction area in Boulevard allows you to view and print your sales information in various formats. Five different views can be accessed from the View drop-down, and additional views can also be imported.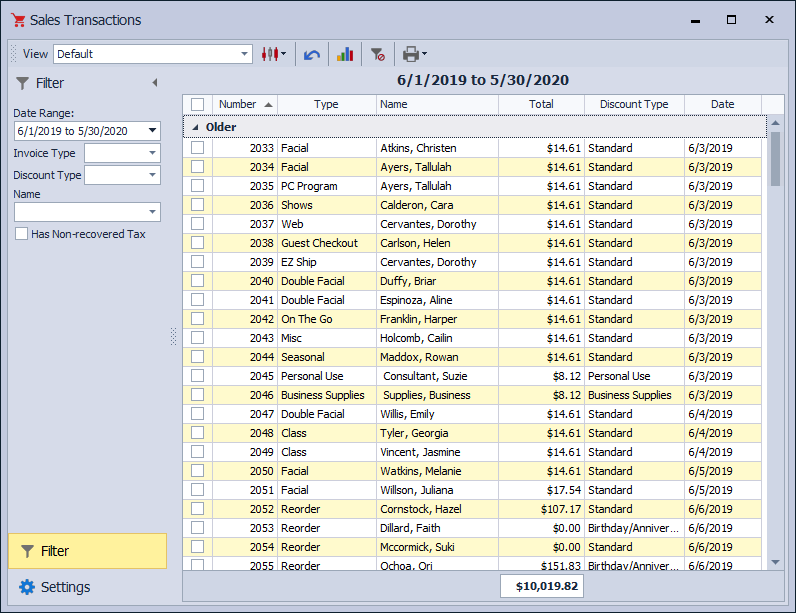 From the Business Tools menu, click Sales Transactions (or from Reports - Tools group on the main toolbar, click Invoices).
Select a desired view from the View drop-down.
From the Filter sidebar, under the Date Range field, select one of the quick date options, or choose Custom to enter a custom date.
For further refinement, select an Invoice Type, Discount Type, Has Non-recovered Tax or Name.
To print as a report, click and choose Print.
Alternatively, to print individual invoices, click the checkbox next to each transaction, then click

and choose either Print or Preview (The Deliveries view will not print individual invoices, but instead allow you to select the deliveries to be made and printed in a report format).
---
Additional Information:
To add additional fields to the view, click and select Column Chooser. Drag and drop desired fields onto the current view.
To hide any columns, right-click on the column header and select Hide This Column.
To sort by a specific column, click on the column header to be sorted by.
To filter by a specific column, hover over the column header. Click on and choose your filter criteria.
To import a view, click then select Load View.