Please ensure you have the most current service release installed. 24.4.1.0 is the most current and can be found in the upper left-hand corner of your program.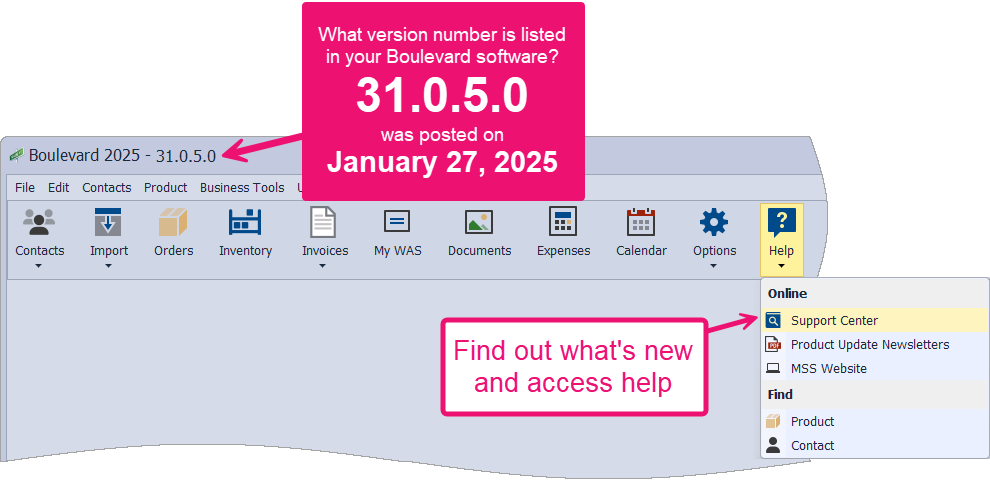 ​
Verify InTouch Credentials in Boulevard:
From the Edit menu, select Preferences then Plug-ins.
Enter your InTouch login credentials, then click  Verify (this may take up to a minute depending on your internet connection).
If you have entered the correct credentials, click   Ok  on the Verified Successfully message, then  OK  to save and close Preferences.
---
Import an Inventory Product Order:
In Boulevard, from the Product menu, select Inventory Orders.
From the Inventory Orders toolbar, click .
Please Note: Depending on your internet speed and how many orders there are to download, this process could take up to 5 minutes.
Once the download completes, from the My Order History form, select an order, then click  OK .
If there are items listed in the Order Import Log, manually add them to the order using a partial description search, then if necessary add the items in Boulevard (with the exception of free section 2 items or non-retail prizes).
At the bottom of the order form, under the Totals tab, ensure all totals match the packing slip shipped with your order to include the order discount, tax, freight/handling, and any section 1 bonus items you received (See Balance the Totals on an Inventory Order for more information). 
After making any necessary changes to the order, click  Save. View
Repeat steps 2 - 6 for each order to be imported into your inventory.
The order will now be marked with a 

 and the status set to Open and is ready to be marked as placed. View If the order has actually been placed and paid for or received from the company, proceed with Placing and then Receiving a Product Order.