Print a Single Label using a DYMO® Label Printer
Printer manufacturers do not recommend printing on sheets of labels multiple times as the build-up of residue from the back of the labels can cause issues and ultimately shorten the lifespan of your printer. For situations where a single label needs to be printed, follow the steps below to print to a DYMO® label printer (the printer must be installed in Windows before proceeding).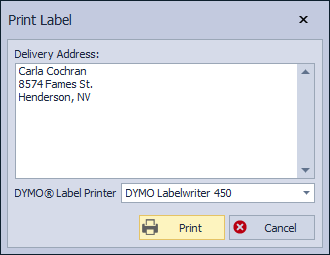 To print a single label, open the applicable list (Customer, Address, or Unit list or List Builder) and select the checkbox next to the desired contact (ensure that only one checkbox is selected).
From the toolbar, select Print, then choose Mailing Labels*.
Make any necessary changes to the Delivery Address.
From the DYMO Label Printer drop-down, ensure that your DYMO printer is selected, then click Print .
* You can also access from the Business Tools menu, select
Mailings, then Print Single Label, from the Reports - Tools group on the main toolbar, click

Mailings, then Print Single Label, or using your keyboard press Ctrl + L if printing from one of the contact lists.
---
Additional Information:
Tip: You can print a label for someone that is not on one of your contact lists by replacing the pre-populated information from the Delivery Address field after you've launched the Print Single Label form (this information will not be stored once the Print Label form has been closed).