Print an Address on an Envelope
Print an address and other information directly on an envelope following the steps below.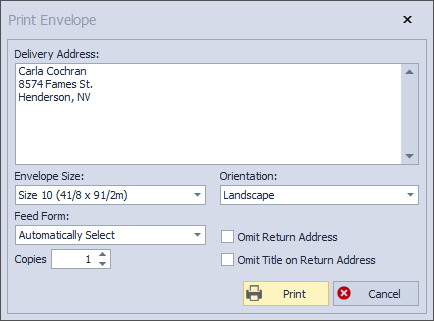 To print an envelope for a single contact, open the applicable list (customer, address, or unit) and select the checkbox next to the desired contact (ensure that only one checkbox is selected).
From the Business Tools menu, select Mailings, then Envelopes*.
Make any necessary changes to the Delivery Address.
Select the Envelope Size from the list. (If the size is not listed, then either Boulevard or your printer does not support it.)
From the Orientation drop-down list, select the way your printer handles envelope orientation.
From the Feed Form drop-down list, select the tray the printer will use to print from.
If necessary, choose from additional options to Omit Return Address and/or Omit Title on Return Address.
Under Copies, select the desired number of envelopes to print, then click Print .
* You can also access from the Reports - Tools group on the main toolbar, click

Mailings, then Envelopes, or using your keyboard press Ctrl + E.
---
Additional Information:
Tip: You can print an envelope for someone that is not on one of your contact lists by replacing the pre-populated information from the Delivery Address field after you've launched the Print Envelope form (this information will not be stored once the Print Envelope form has been closed).