If you receive an error such as "invalid credentials" or similar, follow the steps below to ensure both the email address in Boulevard and in the My Account section of our website matches.Your Boulevard software needs internet access to load Product Updates, Service Releases, connecting with Avenue, and other "behind the scene" tasks.
Verify Credentials in Boulevard: 
From the Shortcuts form, click Preferences (or from the Edit menu, select Preferences).
Under the Online Sync tab, enter the email address and password on record, then click Verify .
If the information matches what we have on file for you, the Verify Results form will appear with your Personal Information and the services you are subscribed to. Click   OK  on the Verify Results form, then click  OK   to close Preferences.
If you are subscribed to the Product Update Service, close and re-open Boulevard to prompt updates that need to be loaded. If you are subscribed to Avenue, using your device, log in with your new credentials.
(See also No dataset returned for additional help on product updates.)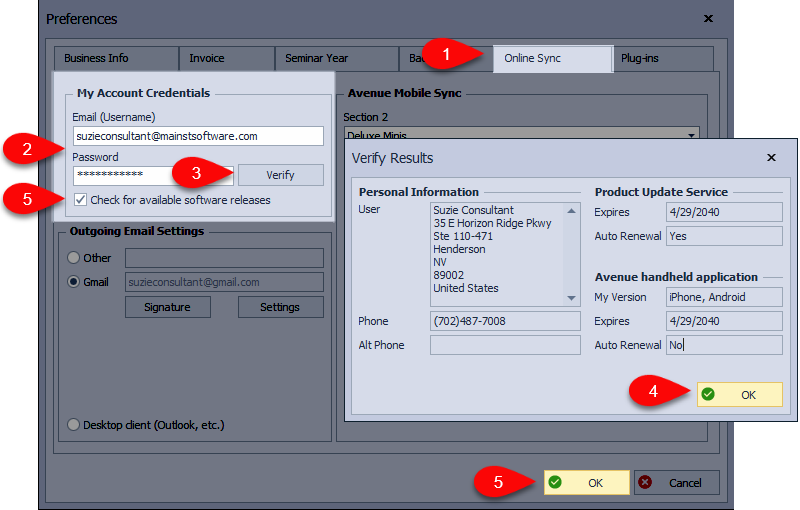 Changing Your Main Street information on My Account
Using the email address and password currently on file, click on the following link to login and Update your Email Address or Password (Click Forgot Password? link if you're not sure what we have on file for you.)
Under Update Email Address or Password, make any necessary changes, then click Save .
Please Note: Email and password changes made to your online account may take up to 15 minutes to reflect in your program. If you continue to have issues, please contact us.