Export Contacts to Stamps.com or other Postal options
You can choose to export address information from any of your contacts stored in Boulevard as a text file format which can then be imported into other third-parties such as Stamps.com, USPS, Pirate Ship, Canada Post, and more!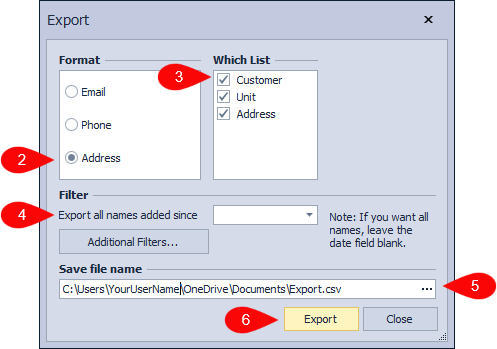 From the File menu, select Export.
Under the Format section, select Address.
Under the Which List section, select which lists you'd like to be included.
If desired, enter a date under the Filter section if you'd like to only export any contacts added since a particular date. Use the Additional Filters button for advanced filtering (such as only contacts from a specific city, etc.).
Under the Save file name section, click

...

to change the default location of where the file will be saved, then click Export.
When finished, click OK, then Close.
---
Additional Information:
The following links are provided as a courtesy. If you need further assistance with importing into these or other third parties, please contact their support.