For the purpose of getting caught up, we do not recommend entering each itemized expense into Boulevard, rather entering the totals for each category by month. When finished, you'll have an accounting of your expense categories needed for year-end tax purposes on the Annual Expense report. (As with anything tax-related, always keep your original documentation.)
Organizing Your Receipts
Begin by grouping the receipts by month.
When finished, sort each month into the applicable tax categories (you'll want to refer to your accountant).
Using a calculator, add each category for each month.
Creating an Expense Entry
From the Business Tools menu, select Expenses. (or from the main toolbar, click Expenses).
Tip: To view a running list of the entries, from the Filter sidebar set the Date Range to include the corresponding month of the items being entered.

From the toolbar, click .
In the Pay To field, enter the category name that the expenses are being assigned.
In the Memo field, enter the Month Expenses (such as July Expenses).
From the Category field drop-down list, choose the appropriate category.
In the Date field, enter a date that falls within the month you are recording (such as 7/31/2019 for July 2019).
Enter the amount calculated from the steps above in the Amount field.
Click Save & New and repeat steps until finished with all expenses.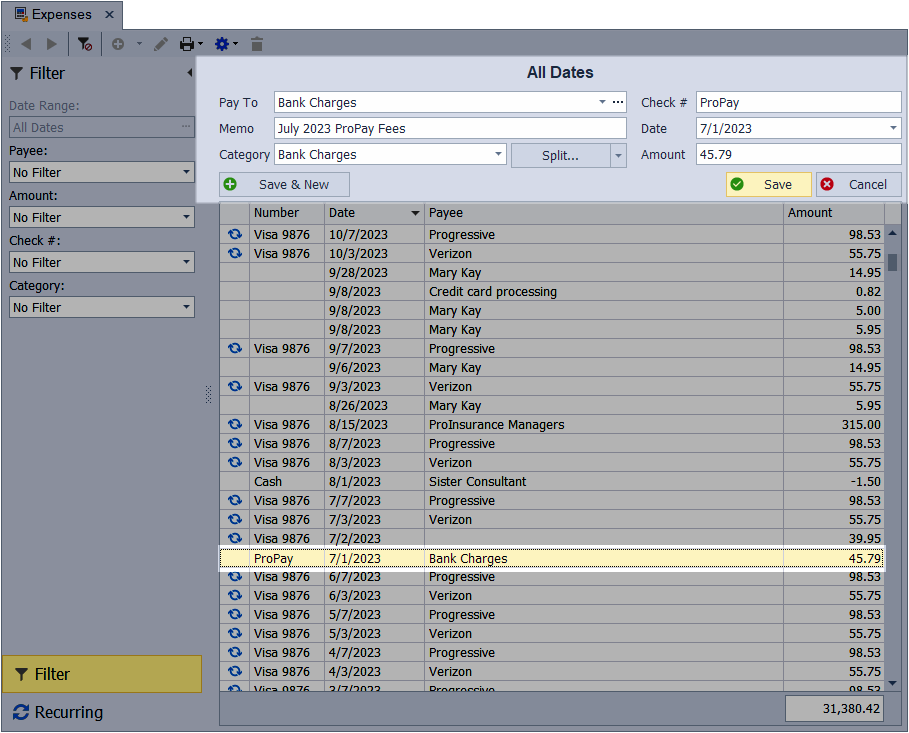 ---
Additional Information:
Tip: If any of the expenses to be entered are recurring, see Create, Edit or Delete a Recurring Expense to enter all past entries at one time.