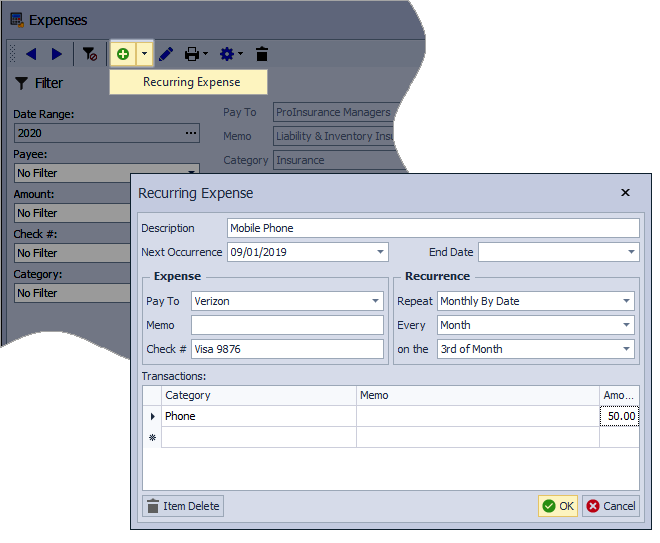 Create a New Recurring Expense
From the Business Tools menu, select Expenses (or from the main toolbar, click  Expenses).
From the Expense toolbar, click   located next to the button and select Recurring Expense from the drop-down options listed.
Enter a meaningful name in the Description field for the recurring expense (this can be the name of the Payee).
Select a date from the Next Occurrence drop-down calendar (and if applicable, select a date from the End Date drop-down calendar).
Under the Expense section, fill in the Pay to, Memo and Check # (if a credit card is used, we suggest specifying which card).
Under the Recurrence section, under the Repeat drop-down, select how often the expense should recur either Monthly by Date or Annually.
If Monthly by Date was selected, under the Every drop-down, select from one of the options listed.
Under the on the drop-down, select the specific date the expense will occur on.
Under the Transactions section, select the applicable expense Category, then the Amount (and optionally Memo field).
If a recurring expense needs to be split among multiple categories, repeat step 9 until finished, then click  OK  to accept and close the form.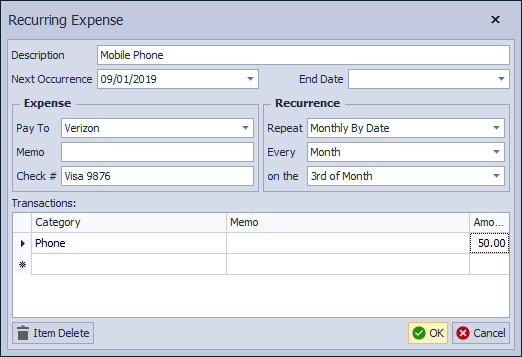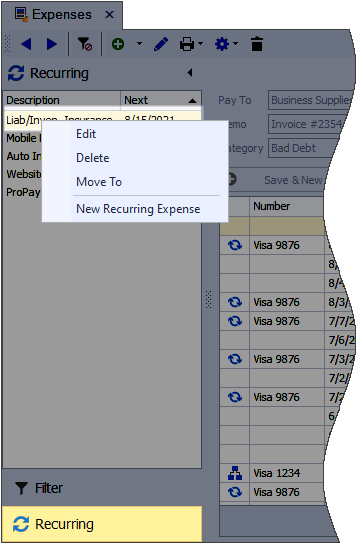 ---
Edit, delete or move a future recurring expense
From the lower left hand area of the Expense form, select  Recurring.
Right-click on the desired expense, then choose either Edit, Delete, or Move To.
---
Additional Info:
For recurring expenses to populate, your Boulevard program and/or expense screen must be closed regularly.
When a recurring or split expense transaction has been posted, the line entry will be marked with the following images to indicate a split  or recurring expense. Hovering over the image will display additional information.
The steps above can also be used for recurring income as well.
To delete or edit individual recurring transactions that have already been added, see Add, Edit or Delete an Expense Entry.