Use the Split Expense feature to add a single entry from the same receipt that has multiple categories. For example, when printing documents or fliers for advertising, and also purchasing pens and folders as office supplies.
Split a New Expense Entry
From the Business Tools menu, select Expenses (or from the main toolbar, click Expenses).
Click to create a new entry.
Enter applicable information such as Pay To, Check #, Date, and the total amount of the expense being entered, in the Amount field.
Click the Split... button to create an entry that includes multiple categories.
On the first row in the Split Expense table, select the first category in the Category field. If desired, enter notes about that portion of the transaction in the Memo field.
In the Amount field, type the transaction amount for that category.
Repeat steps 5 and 6, adding new rows as necessary until you've split out the entire transaction amount.
When finished, click OK to save and close the form, then click Save in the Expenses form to finish saving the transaction.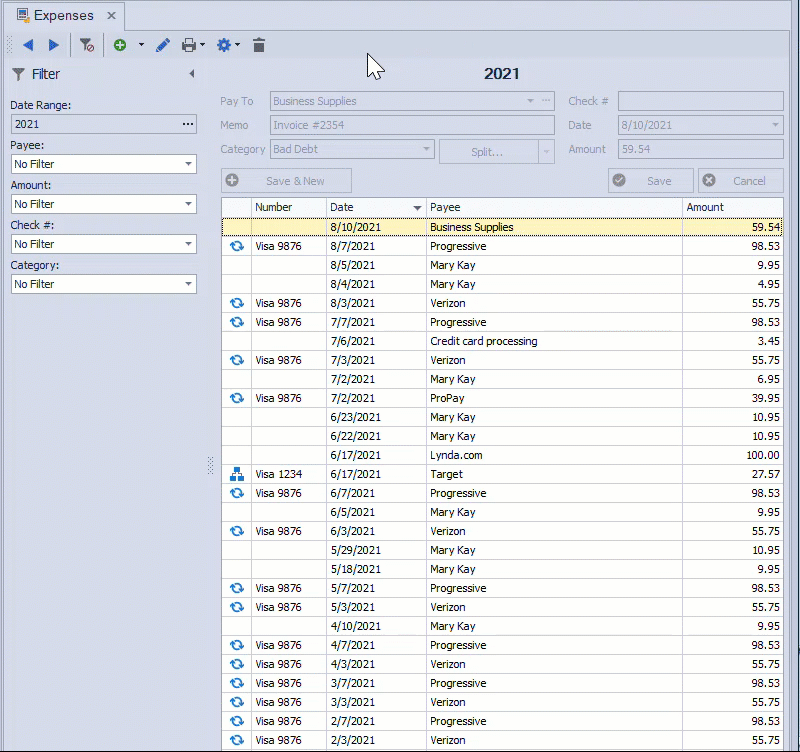 ---
Clear a Split
Next to the Split button, click and choose Clear.
Continue entering other applicable information such as Memo, Check #, Date, and Amount.
From the Category drop-down, select the applicable category.
When finished, click Save .