Information in your Boulevard software can be exported in several different formats. The steps below give a general guide using the customer list and a few fields exporting in a CSV file (comma separated value).
To begin, we recommend that you create a view based on the Default layout.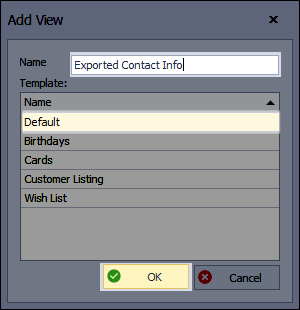 Create a View
From the toolbar of the list that you're working with, select  View, then  New from the drop-down options listed.
In the Name field, give the view a name such as Exported Contact Info.
From the Template section, ensure that Default is selected, then click   OK   to save.
---
Customize the View
From the list toolbar, you should now see Exported Contact Info in the View drop-down. Currently, this view looks exactly like the Default view. Now, you'll want to customize the Exported Contact Info view by hiding columns you don't want to include, and adding columns that you do want to be included in the export.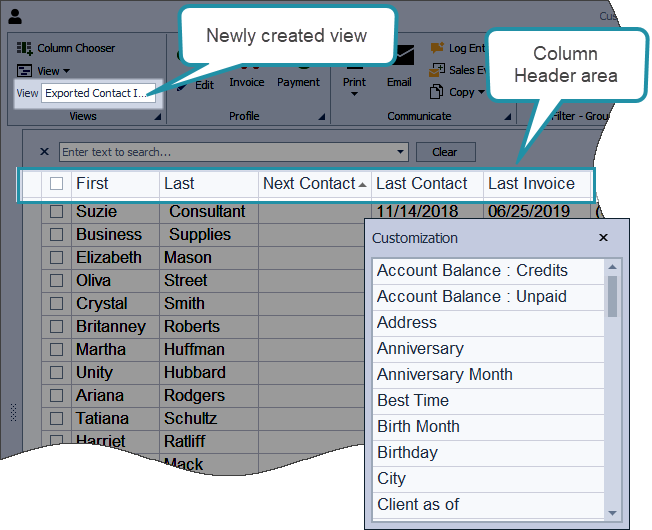 Right-click any column header you want to remove, then select Hide This Column.
To add fields, from the toolbar, click  Column Chooser.
From Customization form that pops up in the lower right-hand corner, drag and drop each field onto column header area at the top of the list.
---
Preview & Export the View

When finished, from the toolbar click  Print and select View.
From the Preview form, click next to  and select CSV File (or choose one of the other file format options listed. The default format is PDF.), then click  OK   .
Give the file a name and navigate to where you want to save the file, then click  Save  .
---
Delete the View
You can access this view anytime from the View drop-down located on your customer list toolbar, however, if the view is no longer needed, it can be deleted.
Select the view to be deleted from the View drop-down. View
From the toolbar, click  View, then select Delete from the drop-down options listed. View
Click Yes  to confirm.