Views allow you to display the information of your choice, inside various areas of the program, in a format that allows for additional customization (such as sorting, filtering, etc.). The steps below will guide you through adding columns to the Customer, Address, or Unit list (customer list shown in the animated image below). You can then print a report, export the information, or even print mailing labels.
Add Columns
Additional profile fields can be added as columns to the contact list.
From the list toolbar, click Column Chooser.
From the Customization form, drag and drop any of the available columns onto the list.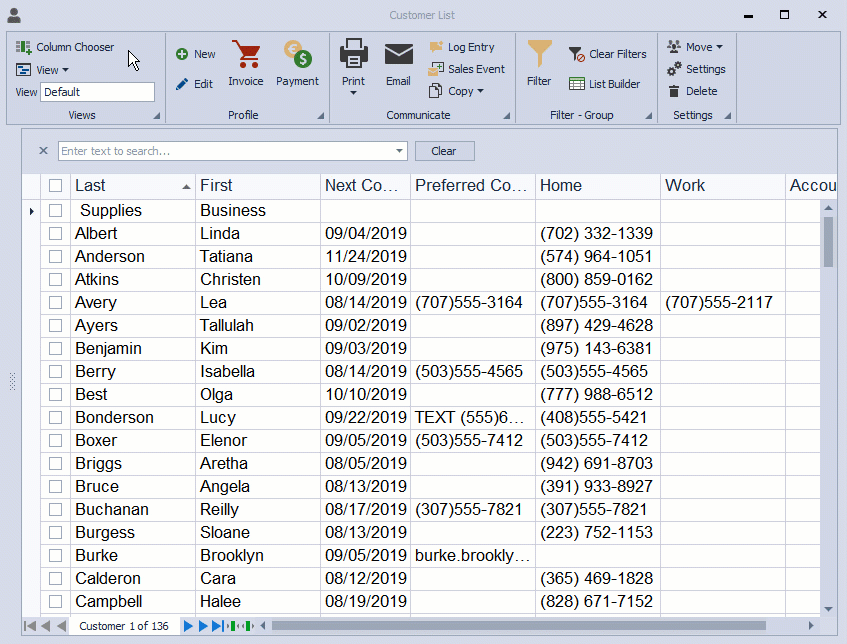 ---
Move Columns
Columns can be arranged in any order.
Click and hold onto the column header. White arrows will appear above and below the column header .
Drag the column header to the desired location.

---
Hide Columns
Columns can be hidden. Right-click on the column header and select Hide This Column.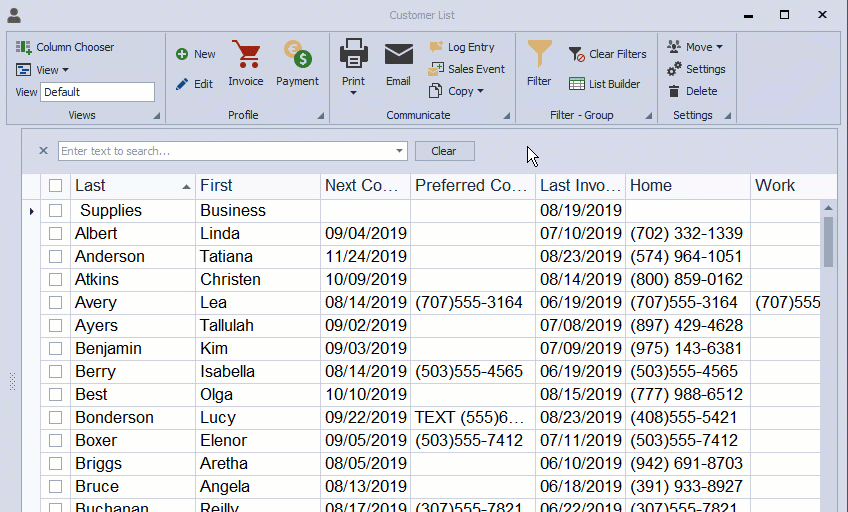 Additional Options
To reset the current view to its original format, click View then select Reset.
If desired, use the Filters to drill down the list using any of the available options.
To clear any filters set, click Clear Filters.
---
Print Report or Export
To print the view as a report, from the list toolbar, click Print then select View.
From the Preview screen, select to print, or click to export in various file formats.
---
Select the checkboxes next to the names to be included (or the checkbox column header to select all).
From the list toolbar, click Print and choose Mailing Labels.
From the Mailing Label Options form, select the following options Label Type, Use Name, and Font, then click OK .
---
Select the checkboxes next to the names to be included.
From the list toolbar, click Email to launch the message.
After composing the email, click Send.
A copy of each email message will be added to your email provider's Sent folder. Each recipient will have an event logged into their Contact Log that an email message was sent. To view, open their profile and click on the Contact Log tab.