Click

Filter, to apply quick filters for the Customer, Address or Unit List for functions such as creating a Group Email, creating or adding to an existing name list in the List Builder, and creating a new View to print custom reports.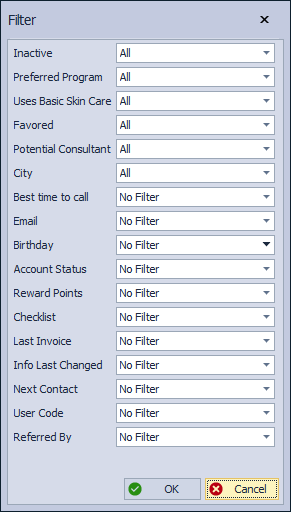 Customer List Filters
Inactive
Preferred Program
Uses Basic Skin Care
Favored
Potential Consultant
City
Best time to call
Email
Birthday
Account Status
Reward Points
Checklist
Last Invoice
Info Last Changed
Next Contact
User Code
Referred By
---
Additional Information:
To sort by a particular field, click the column header.
If the information you are looking for is missing check for the following:
Do they appear when you perform a Search?
Did the contact get accidentally deleted? If so, check Boulevard's Recycle Bin (See Restore Contact from the Recycle Bin).
Are there any filters set? From the toolbar click the Clear Filters to remove any filters set.
---