Open the applicable list (Customer, Address, Unit, Product or Sales Transactions).
From the toolbar click  then select Create View.
Give the new view a description under the Name field.
Decide which template to base the new view on, then click  OK   (For example, choose from Default, Birthdays, Cards, if creating a contact view. Alternatively, you can create a view based on one you have previously created).
To add additional columns click  then select Column Chooser (See below for a list of the available columns that can be added).
Use the drag and drop method to add columns to the desired location on the current view.
To hide any unwanted columns, right click on the column header and select Hide This Column.
Access this newly created view from the View drop down. It can then be printed as a report or used to create a List Builder list, send individual and group email, and mailing labels.

---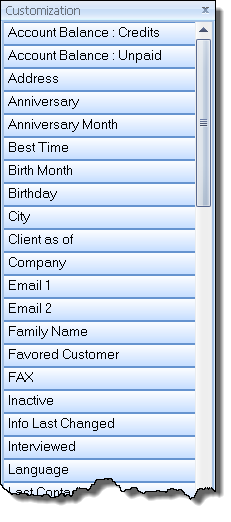 Customer List Column Customization Options
Below are the available columns that can be added and used to filter on the customer list. Depending on the list that you are creating a view for, some columns may not be applicable or other columns may be available.
Account Balance, Account Balance: Credits, Account Balance: Unpaid, Address, Anniversary, Anniversary Month, Best Time, Birth Month, Birthday, City, Client as of, Company, Email 1, Email 2, Family Name, Favored Customer, Fax, First Name, Inactive, Info Last Changed, Interviewed, Language, Last Contact, Last Invoice Date, Last Name, Name, Next Contact, Occupation, Other Phone Type, Partner Birth Month, Partner Birthday, Partner Email, Partner First, Partner Last, Partner Name, Partner Phone, Partner Relationship, PC Program Date, Phone: All, Phone: Home, Phone: Mobile, Phone: Other, Phone: Work, Placeholder, Postal Code, Potential Consultant, Preferred Contact, Primary TOC, Referred By, Reward Points, Secondary TOC, State, Street 1, Street 2, User 1, User 2, User 3, User 4, User 5, Uses Basic, Zip
---
Delete a Created View:
Created views, can be deleted by selecting them from the View drop-down. Click

, then select Delete and   Yes   to confirm. Default views cannot be deleted, but can be reset to their original state. Click

, then select Reset and   Yes    to confirm.
---