A Set is similar to a pre-pack (an item that is made up of a group of products that never change), but you can choose to keep an on-hand amount (or even ideal level) for the set and split the set as needed.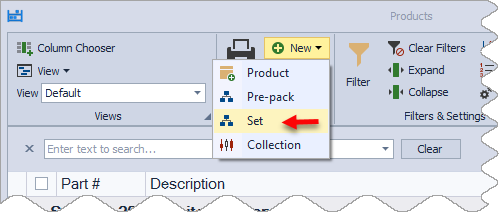 Create a set
From the Product menu, select Product List (or from the main toolbar click Inventory).
From the product list toolbar, click New, then select Set from the drop-down list.
Use Lookup to add all products that make up the set.
Once the product is correctly itemized, click OK to save and close the Product Itemize form.
Assign the set a part number and give it a description. For example, to create a gift set that included a hand cream with a teacup, you could enter TEASET1 for the part number and Pamper To a Tea! for the Description.
From the Category list drop-down, choose the category where you want the set located (option: assign the set to a group or leave the field blank).
In the Pricing area, enter the amount you will be charging for the set in the Retail/Cost field.
Click Save to save the newly created set.
---
Additional Information:
To view the contents of a set, ensure there is at least 1 On Hand (Edit Count), then click Split Set from the profile toolbar.
And new to Boulevard 2020, you can convert any pre-pack to a set from the Product List; simply
right-click on the pre-pack and choose Change to set.
Are you on the Product Update Service? If so, we create new sets each season for you to load automatically! View Samples