A Product Collection is a special grouping of products which contain both constant (brushes, compact, etc.), and variable items which are selected at the time of the sale for the individual customer (eye colors, lip colors, fragrance, etc.).

When adding the product collection to a customer's invoice, you will be prompted to select the variable products for that particular customer. The products selected will then be automatically subtracted from inventory at the time of sale.
​When a collection has been purchased the printed invoice will show the individual items from the collection, but only the retail amount charged for the collection, not each individual product amount. This allows you to add extra for packaging and other items included in the collection.
Create a Product Collection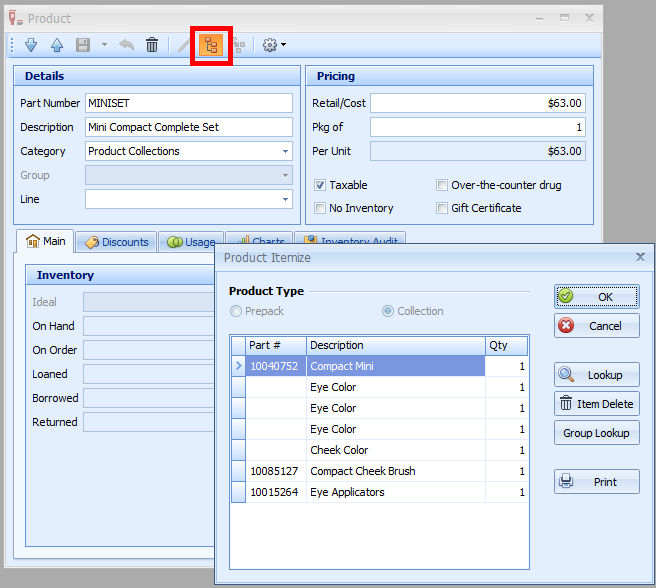 From the Shortcuts form, click Create New Product (or from the product list, click ).
Assign the collection a part number and give it a description. For example, to create a Mini Compact Complete Set, enter MINISET for the part number and Mini Compact Complete Set for the description.
From the Category list drop-down, choose the category where you want collection located. (We suggest Product Collections.)
Leave the Group field blank as they do not apply to collections.
Under the Pricing section, enter the amount you will charge in the Retail/Cost field.
From the product form toolbar, click .
In the Product Itemize form, choose Collection.
Use the  Lookup  to add all products that make up the collection that do not change (compacts, brushes, etc.).
 For each variable item that is decided at the time of the sale, click Group Lookup to add a group.
In the Qty field, enter the quantity of each individual item contained in the collection.
Important Note: If you want the collection to contain more than one of the same type of product, you must enter the group name on more than one line. For example, if the collection contains three different eye colors, enter three line items both with the group name Eye Color.
Once the product is correctly itemized, click  OK  to save and close the Product Itemize form, then click to save the newly created collection.
Tips: