A Prepack is an item that is made up of a group of products that never change, for example, seasonal looks. You would define this set as a pre-pack since the individual items always remain the same.
When you add the pre-pack to a customer's invoice, Boulevard automatically subtracts the individual items that make up the pre-pack from your inventory (pre-pack items are listed individually on the printed invoice and in the customer's product history).
When you order a pre-pack from the company, the individual items that make up the pre-pack are automatically added to your inventory.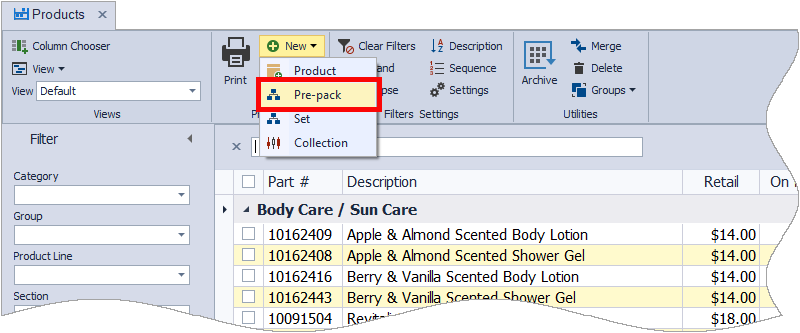 Create a Pre-pack
From the Product menu, select Product List (or from the Products - Inventory group on the main toolbar click Inventory).
From the product list toolbar, click New, then select Pre-Pack from the drop-down list.
In the Product Itemize form, click Lookup to add all products included in the pre-pack.
In the Qty field, enter the quantity of each individual item contained in the collection.
When finished adding items, click OK to save and close the Product Itemize form.
Assign the pre-pack a part number and give it a description. For example, to create a hand cream with mug set, you could enter MUGSET for the part number and Coffee & Cream Set for the Description.
From the Category list drop-down, choose the category where you want collection located.
Under the Pricing section, enter the amount you will charge in the Retail/Cost field.
Click to save the newly created pre-pack.
---
Additional Information:
To view or print the contents of a collection, from the profile toolbar, click Itemize.
We'll create custom Collections and Pre-packs for each season when subscribed to the Product Update Service!
And new to Boulevard 2020, you can convert any pre-pack to a set from the Product List; simply
right-click on the pre-pack and choose Change to set.