To make minor inventory adjustments, edit the physical count of a product, which changes the number that appears in the On Hand field. You can also add an expiration date for a product.
If you find you are changing the physical count for a large number of items, you can remove all inventory counts and create a mock order to quickly re-enter your inventory quantities.
To Edit the Physical Count:
From the Shortcuts form, click  View Products & Inventory (or from the Product menu, select Product List).
Open the product form of the item to be adjusted (if necessary, click  from the toolbar, and enter a partial description of the item).
On the product form toolbar, click  to open the Physical Count form.
Adjust the quantity on the next available blank line, and if necessary, the wholesale amount.
Click  OK  to accept and close the form. 
Options:
If applicable, track a product's expiration by adding it under the Expires field (See Track Expiration Dates for more information).
Add or select a Reason for adjustment from the drop-down list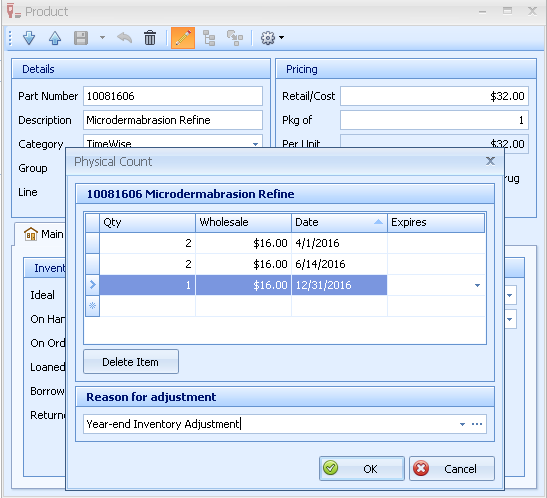 Once your inventory is accurate, to print the cost of goods on hand and other necessary reports for tax purposes, see Close Year-End & Run Tax Reports.