You can connect your email address and send individual or group email messages from inside Boulevard. The benefit of using your email address inside of Boulevard is that it will send each email individually when using the group email function. You will also have the ability to send an individual email, and a record of each email will be added to the recipient's Contact Log of their profile.
Option 1 (Recommended if you use Gmail)
After installing Boulevard 2022, releasing on June 1, 2021, see Easily Connect Your Gmail Account to Send Email.
---
Option 2 (Other Email Address Providers)
From the Edit menu, select Preferences, then the Online Sync tab (or from the Business group on the main toolbar, click Preferences, then Email Settings).
Under the Outgoing Email Settings section, select Other (if necessary, click Settings).
Enter your email address and the password associated with your email account in the Email Address and Password fields.
Enter the applicable information for your specific email provider in the SMTP Host, Port, and if necessary, Use SSL (Download the PDF for Common Outgoing Server Settings). View
Click Verify to ensure that the password and email address were entered correctly and that the connection has been established.
If successful, a message will be sent to the email address entered with the following Subject Line: Test Email from Boulevard. Click OK confirming, then OK to save and close the Settings form.
Click OK to save and close Preferences.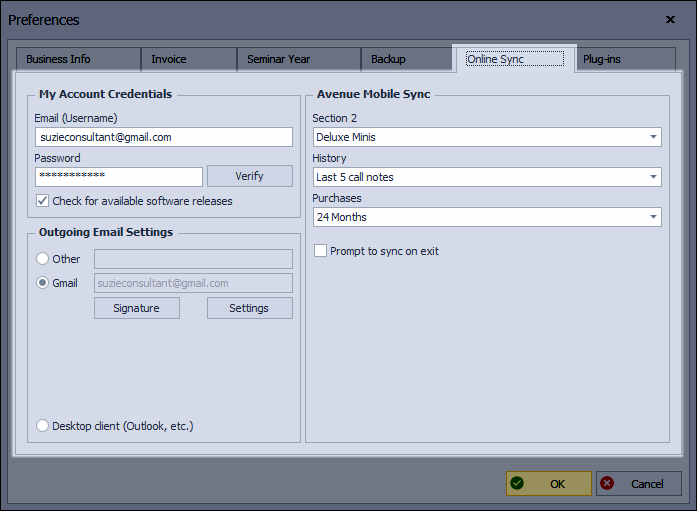 ---
Option 3 (Using a Desktop client such as Outlook)
See Launch Desktop Email App from Boulevard (Outlook, etc.) for more information.
---
Additional Information:
The following external links are provided as a courtesy. If you need further help, please refer to Google support.