Choose to send an email to one or more recipients with a listing of items included in a current Sales Event as an attached pdf with the option to embed the list items included in the sale into the email itself. Before proceeding, you'll want to ensure your email address is linked to send email messages inside Boulevard first.
---
Create the Email
From the customer list (or from a previously created List Builder list), select the checkbox next to each name to be included. View
From the Customer list toolbar, click Sales Event (or from the List Builder toolbar, click ). View
Select the sales event, then click OK . View
---
Additional Options:
To add a list of sale items in the body of the message, click Sales Event from the main toolbar.
Select the event, then click .
Click OK to acknowledge that the Sales Event information has been copied to the clipboard. View
Go back to the email message and click in the body of the email where you would like the items displayed, click to paste (or using your keyboard hit Ctrl + V).
When finished, ensure the email has a subject, and add any additional information to the body of the email (images profile fields for personalization as shown below with their first name), then click .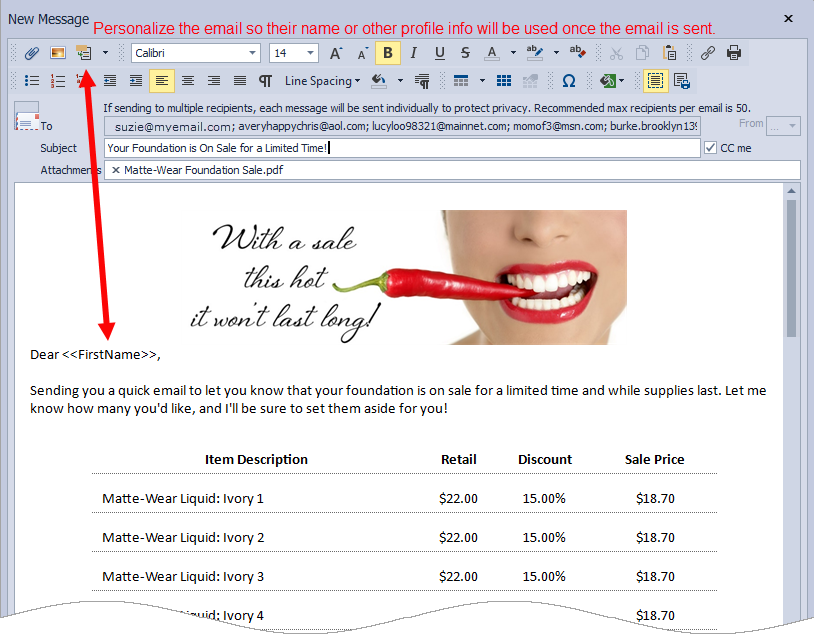 ---
Additional Information:
Your Outgoing Email Settings must be added under Preferences before proceeding with the instructions below if you are wanting to use Boulevard's internal email function. View
Some email providers do not save a copy of the email message in your Sent folder. If this is the case in your situation, check CC me to have a copy of the message sent to your email provider's inbox. View
The group email feature is not intended to be used in sending more than 50 email messages at a time. For larger campaigns, we recommend that you use a specialized email marketing service.
If you launched the email from the Customer List toolbar and are using the outgoing email feature inside of Boulevard, an email will launch with the sales event pdf automatically attached. View
If you're using an email program such as Outlook or Window Live Mail (instead of Boulevard's internal email function), after the email message has launched, attach the sales event pdf (located on your desktop) to the email before sending.
---
Addtional Articles: