After entering or importing weekly sales and wholesale order information for consultants into Boulevard, you can organize and summarize the information in a variety of ways, depending on your needs.
Choose from either displaying the information Screen (on-screen), Clipboard (copies to the Windows clipboard), or Email (launches an email). If Email is selected, your email settings must be set under Preferences first.
From the Unit menu, select Consultant Recognition (or from the Unit group on the main toolbar click

Recognition).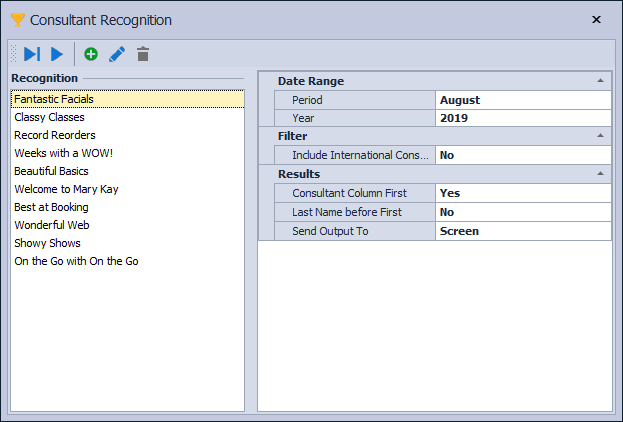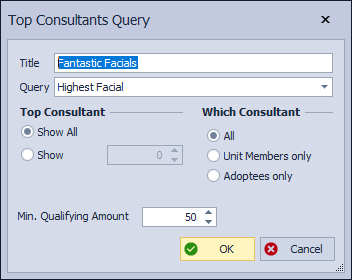 From the Consultant Recognition toolbar, click .
From the Top Consultants Query form, enter a query description in the Title field.
From the Query drop-down list, select the desired query.
Under the Top Consultant and Which Consultant sections choose the applicable criteria, then click OK to save and close the form.
Under the Recognition section, double-click on the query, or select it then click from the toolbar.
Make any necessary changes, then click OK to save and close the form.
Select the query under the Recognition section then click from the toolbar.
Click Yes to confirm.
On the right-hand side of the Consultant Recognition form, set the desired criteria from the Date Range, Filter, and Results section.
To run one query, select it then click from the toolbar; or to run all queries, click .
Note: If you're running a query using one of the seminar date options in the Period field, you'll need to ensure that your dates are set under the Seminar Year tab in Preferences. If you're on the Product Update Service, these dates are automatically updated for you each year.
---
Additional Information: