There are several ways to begin creating a new appointment. Choose from the following options:
From the Shortcuts form, click on  Calendar, then from the calendar tool bar click  .
From the contact's profile toolbar, click  .
From the Customer, Unit or Address List, select the contact, then right-click and choose New Appointment.
From Upcoming Events under Appointments, right-click and choose New Appointment.
Appointment Details:
Enter a Start and End Date and times, or check All Day for an all day appointment.
Enter a Description, location and any other pertinent notes.
If the appointment is recurring, click Repeat and enter the appropriate information under the Frequency and Duration sections, then click  OK  .
To finish adding the appointment and create another, click Add  , otherwise click   OK  .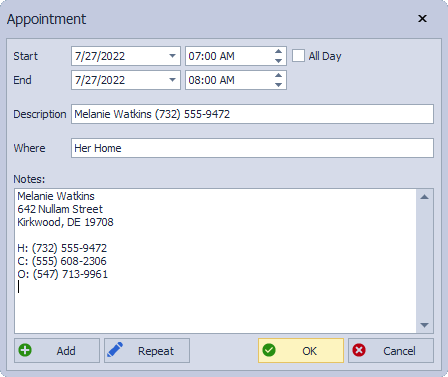 ---