There are many different cloud-based services available for backing up your Boulevard data online. Due to the many variables outside of our control, Main Street Software cannot provide any support pertaining to the setup/installation for either of the cloud-based options mentioned below.
The following services offer 15 GB of cloud storage for free:
An account must be created with one of the options below, and then the app installed on your computer before proceeding. For instructions on installing one of the services, please visit their website using the links below.
OneDrive (is pre-installed on Windows 10)
Google Drive (if you have a gmail account, you already have access to Google Drive)
Dropbox (offers only 2GB)
Tip: To keep your backups together and organized, we suggest after installing one of the options above, create a Boulevard Backups folder.
---
In Boulevard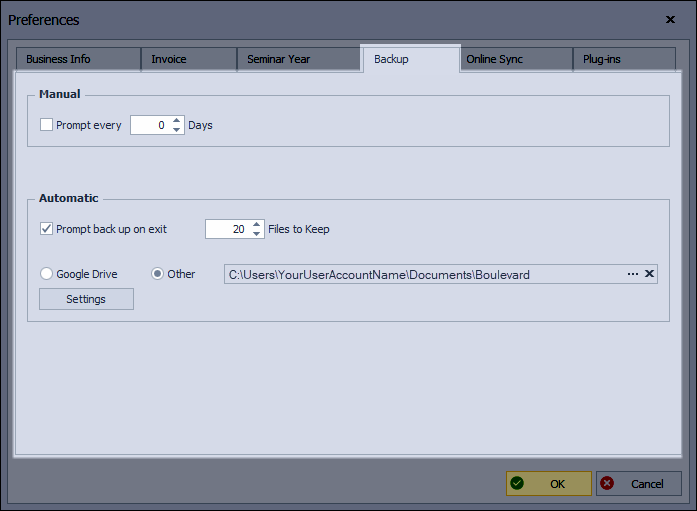 From the Edit menu, select Preferences.
Under the Backup tab select Back up on Exit
In the Location field, click … and navigate to the location of where you want the backups to be saved, then click OK . (i.e. C:\Users\Your Name\Dropbox\Boulevard Backups, if you have created a folder such as Boulevard Backups.)




Select Prompt before backing up if you want Boulevard to ask before initiating the backup each time you close the program, as well as how many backup files to store in the most recent backup files field.
Click OK to save and close.