When Boulevard is launched after the initial install, you will be prompted to complete the Boulevard Getting Started guide. The guide will step you through entering important business information used throughout the program, and will appear each time the software is opened until it has been completed. This and other settings used to tailor Boulevard for your business can be reviewed and updated at any time in Preferences.
To access your business information in Preferences, from the Shortcuts form, click

Preferences (or from the Edit menu, select Preferences).
Settings and various options include:
Name, Title, Address, and primary Phone number
Consultant and Unit number
Your Director's information (and/or adopted Director's information)
Main Street Software website login (used to access various account information and product updates)
Sales Tax rate
Preference Tabs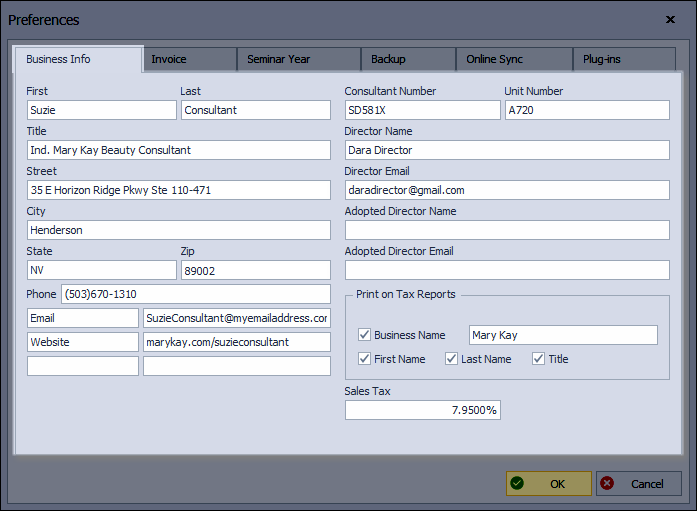 Business Info:

If you have completed the Boulevard Getting Started guide, some of the information has already been pre-filled in such as your name, address, primary phone number. Additional contact information that will be displayed on invoices can be entered as well (E.g. Email, Personal Website, Facebook page, etc.). Please Note: The rate entered in the Sales Tax field is used on company product orders as well as customer invoices.
 
Enter unit information for yourself, your director's name and email address, an adopted director if applicable, and additional settings that define how information appears on your Weekly Accomplishment Sheet (WAS). Entering your director, and/or adopted director's email address allows you to send your Weekly Accomplishment Sheet via email using your computer's default email program (See Preferences: Business Info for more information).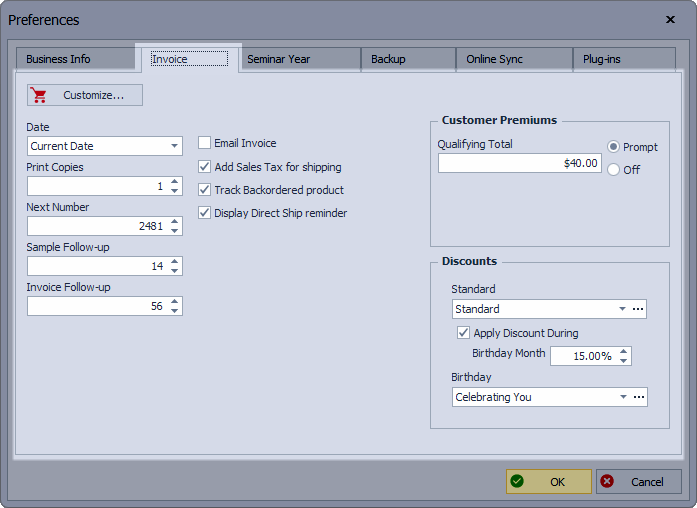 Invoices:

Specify the number of days after a customer is invoiced, when they will be added to your calendar regarding a Sample Follow-up and general Customer Follow-up. Other invoice settings include the choice between the Last Date Used or use the Current Date when creating a new invoice; Customer Premium options (See Preferences: Invoice Tab or Customizing Invoices for more information).



Invoice Customization Options:

Standard Note
Fonts
Display My Business Information (un-check if you are adding your name, address, etc. as part of the Top Left image displayed on invoices.)
Column header text and background colors 
Bold delivery address
Display item count
Display the words "Sold To"
Do not display account balance
Top Left image: typically your picture (Optimal size: Width 4.5" x Height 1.6"); Top Banner image: appears across the top of the invoice (Optimal size: Width 6.7" x Height 1.5"); Left Footer image: (Optimal size: Width 3.0" x Height 1.5"); Right Footer image: (Optimal size: Width 3.0" x Height 1.5")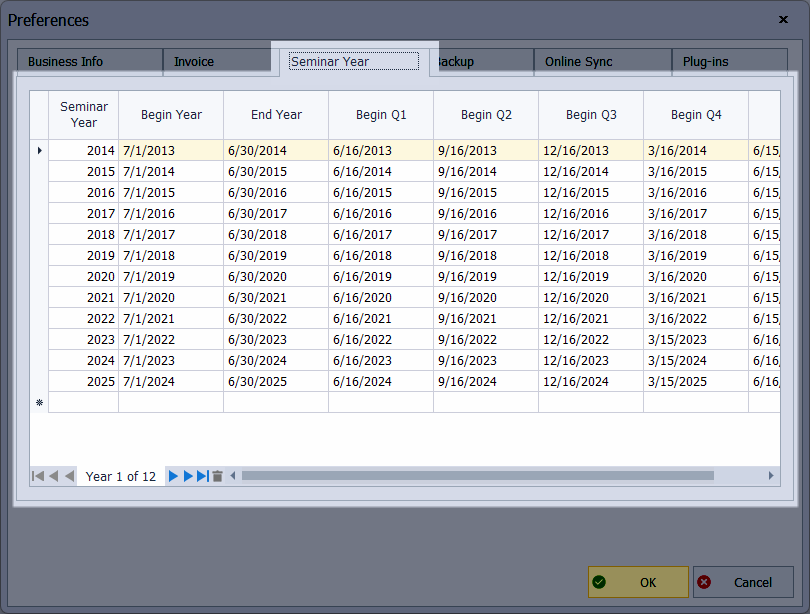 Seminar Dates:

Lists seminar year with each quarter start and end dates. Each year the dates in this tab need to be updated, as they set date ranges for several reports and other information in Boulevard.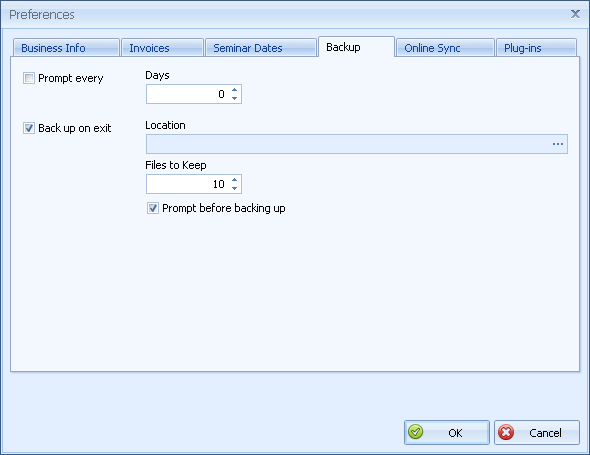 Backup:

Set your backup preferences for the manual backup reminders, automatic backups, and backup file save locations for the automatic backups. To keep your Boulevard data safe, we recommend saving backups automatically from the program to an external or online, cloud-based option (See Boulevard Default Data & Backup File Location, Preferences: Backup Tab, Remote Back up to the Cloud Automatically for more information).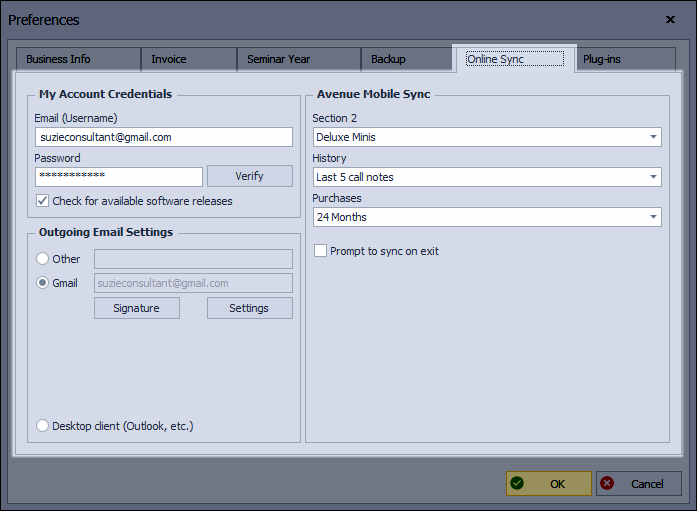 Online Sync:

Your My Account Credentials information is needed to load product updates or receive them automatically within the program if you are currently subscribed to the Product Update Service. Additionally, if you have a current Avenue subscription, the login information entered also allows your data to be synchronized between the Boulevard and Avenue. (See Preferences: Online Sync Tab for more information).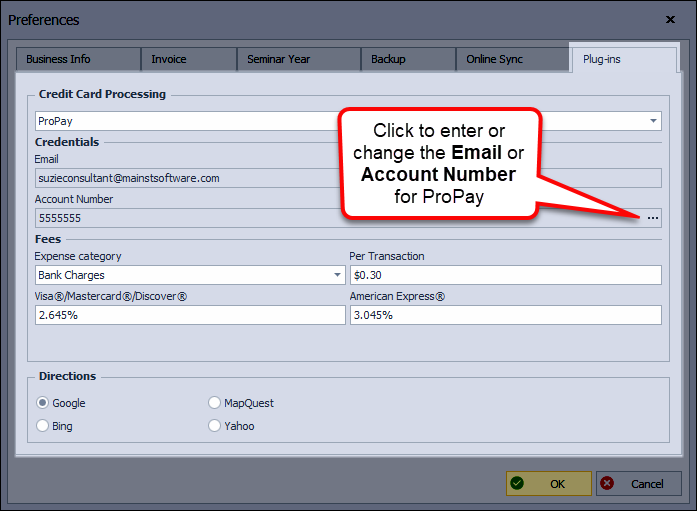 Plug-ins:

Enter your ProPay™ premium account information to store customer credit card data through ProtectPay™ and to submit payments securely with ProPay™. Please Note: For your customer's protection, once the payment method has been added, the full credit card number can not be accessed in it's entirety. The payment information is stored using ProPay's ProtectPay service.
Under the Directions section, you can choose which provider to use when accessing directions (See Preferences: Plug-ins Tab for more information).