Setting up a Reward Program
Everyone loves being rewarded for loyalty! Track points based on your customer's purchases. You can even choose to give additional points based on Product Sales Events, completed Checklist items, and new auto-deliveries.
Quick to implement and maintain; just decide how many points will be earned for each dollar spent, and the redemption rate per point. This feature can be used for all contacts and consultants too!
From the Edit menu, select Settings, then Reward (or from the Contacts group on the main toolbar, click Settings, then Reward).
Ensure that Track Rewards is selected.
Under the Earning section, enter the number of points that will be earned per denomination (Example: For every dollar purchased, the customer will earn 1 point. See additional examples below.)
Under the Redemption section, enter the Redemption Rate or the amount each point is worth.
Click OK to accept and close the form.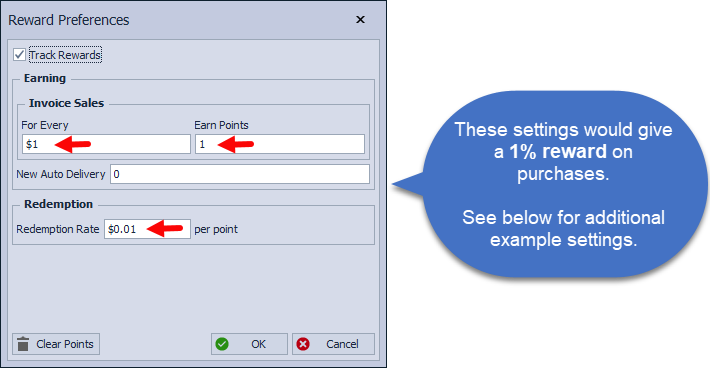 ---
Example Settings:
Example 3 shows how to set up rewards that are incremental. Note that the purchase threshold is higher. If a customer orders less than $25 they would not earn any points. Likewise, if a customer orders more than $25 but less than $50, they would earn 500 points.
---
Additional Information: