Set a Product Order as Placed
After creating a new inventory product order in Boulevard (either manually or imported from online), the next step is to set the Status as Placed, putting it into a pending state. The On Order field will then reflect the quantities for each item ordered.
Important Note: Ensure that the order total matches your company packing slip before changing the order status to Placed. The wholesale amount is calculated from the Default Discount percent located in Inventory Orders Settings. Ensure that the correct discount percentage is set before continuing. View
From the Product menu, select Inventory Order (or from the Products - Inventory group on the main toolbar, click Orders).
From the list of orders, ensure that the correct order is selected, then from the toolbar click Status then Placed from the drop-down options. View
Click Yes to confirm that all of the items contained in the order will be added to the On Order field for each product.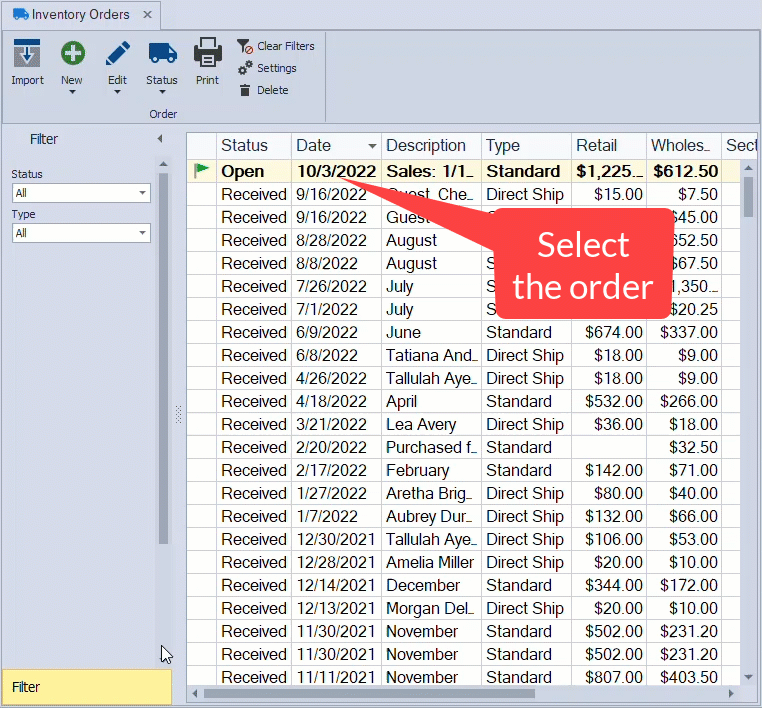 ---
Additional Information:
Placing an order in Boulevard does not transmit it to the company. The actual process of placing an order must be done through the company website or your director.
Do not update the status of the order to Placed if the retail or wholesale totals in Boulevard do not match the order totals from online or the packing slip that came with the shipment. It may indicate that either a price, quantity or the correct items have not been added to the order. If you proceed, it will cause your inventory quantities, and in turn, your records to reflect inaccurately. See Balance the Totals on a Product Order for help with balancing your order totals.
After the order has arrived, the final step in the ordering process is to take the order from the Placed status to Received. This will add the quantities from the On Order field to On Hand for each item ordered. See Receive a Product Order into Inventory for more information.