Toolbar:
 (1):

Searches the Description column when a partial description is entered

 (2):

Opens an order form to create a new order, or Replacement Order from the drop-down menu to initiate a replacement order from previously returned items

 (3):

Opens the selected order to allow changes to the order to be made, or select Edit Mode from the drop-down menu to put the inventory order grid into edit mode. Allows the fields to be edited directly from the Inventory Order form with the exception of the Order Type field and Section 1 Tax on EZShip or Guest Checkout type orders. Changes made will automatically be saved when tabbing out of each cell.

 Place (4):

Marking an order as placed, puts it into a pending state. The quantities ordered are then added to each item's On Order field (This function should be done after submitting the order to company).

 Receive (5):

After the order has been delivered, this function opens the Receive Order form to make any necessary adjustments, then update the on-hand amounts in Boulevard.

 (6):

Deletes the order from Boulevard. If the order has been placed, it removes all quantities from the On Order field for each product. No inventory changes are made if a completed order is deleted, only the value of the order is removed and will no longer be reflected on the Annual Product Purchases report.

 (7):

Clears any filters set.

 (8):

Prints or previews the selected order

 (9):

Opens the Queen's Court form showing a list of all product order totals for tracking progress toward the Queen's Court of Personal Sales. It also shows the total retail value of all orders and the Queen's Court qualifying amount.

Filter:
Date Range (10):

Filter the date range using Quick Dates or set a custom date range

Status (11):

All, Open or Closed orders

Type (12):

All, Standard (default product order type), EZShip (CDS orders that have come from your website or a sales ticket that will be shipped directly from the company), Guest Checkout (Orders that have come from your website from consumers that have not registered on your site that will be shipped directly from the company), or Replacement (System created orders when a Product Replacement has been generated and accepted).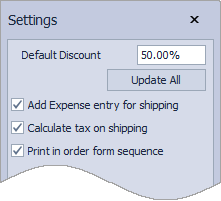 Settings:
(13):

Default discount percent used even if the order is below the typical discount threshold

(14):

After the order has been received into inventory an expense entry will be made for the shipping cost

(15):

Calculates tax on the shipping cost

(16):

When printing, select this option to print in the same sequence as the consultant order form

(17):

If the order qualifies to earn Biz Builder Bucks, the amount will be handled and reflect automatically (US Only)
---
Additional Tips:
Each inventory order will display the total number of items being ordered. View