Before clearing your current inventory amounts, we recommend that you take a backup first.
From the Shortcuts form, click View Products & Inventory (or from the Product menu, select Product List).
Press Ctrl + Alt + J.
Under Which Products, choose either All, Section 1 only, or Section 2 only, then click OK.
Click Yes to confirm removing on-hand amounts for Section 1, 2, or All inventory stored in Boulevard.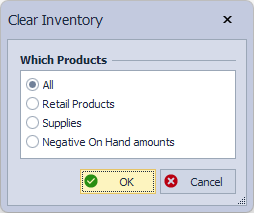 To re-enter your current on-hand amounts, see Taking a Physical Inventory Count, then Creating a Mock Order.
---