Organizing & Filtering Contacts
There are various ways to handle leads, referrals, and other non-business-related contacts. You can decide how to customize Boulevard to fit your business needs.
The premise behind each list is to keep things simple. If they've purchased from you, they are a customer and therefore belong in the Customer list. If they are your recruit (or as a director in your unit), they belong in the Unit list. Everyone else, whether they are friends, family, doctors, babysitters, business associates, or leads, we recommend saving them to the Address list.
Customize and filter the Address list based on how you want to utilize it primarily.
Example Scenario:
Use the Contact Type 1 as either personal or business, then use the Contact Type 2 field to drill it down further.
The table below contains a few examples, but again, think about all of your possible contacts that are not customers or consultants in your unit/team and how you want to group them. Then decide your needs and how you plan to use the information - general contact info, reports, ability to send email marketing, etc.
| Type 1 | Type 2 | Additional Information |
| --- | --- | --- |
| Business | Party Guest | Referrals and warm chatters with the ability to link them to customers or consultants. Was she a unit meeting guest of one of your consultants, and you want to follow up with her, or did she attend a skincare party, didn't purchase for whatever reason, but you want to keep track of her and link her to the hostess who is a customer of yours? |
| Business | Leads | Used for warm chatter or recruiting leads. You can even further group by adding multiple lead types or levels. For example, Lead 1, Lead 2, for how many times they've been contacted. Or Lead - Party, Lead - Networking Group, etc. |
| Business | MK Consultant | In the MK community, but is not in your direct line. |
| Business | Vendor | Hotels you use for events and other companies that you use for your business. |
| Personal | Vendor | Personal contacts include a doctor, dentist, babysitter, mechanic, florist, etc. |
| Personal | Family & Friends | Those that are not customers, but you want to have a place to organize and group them for cards, email, etc. |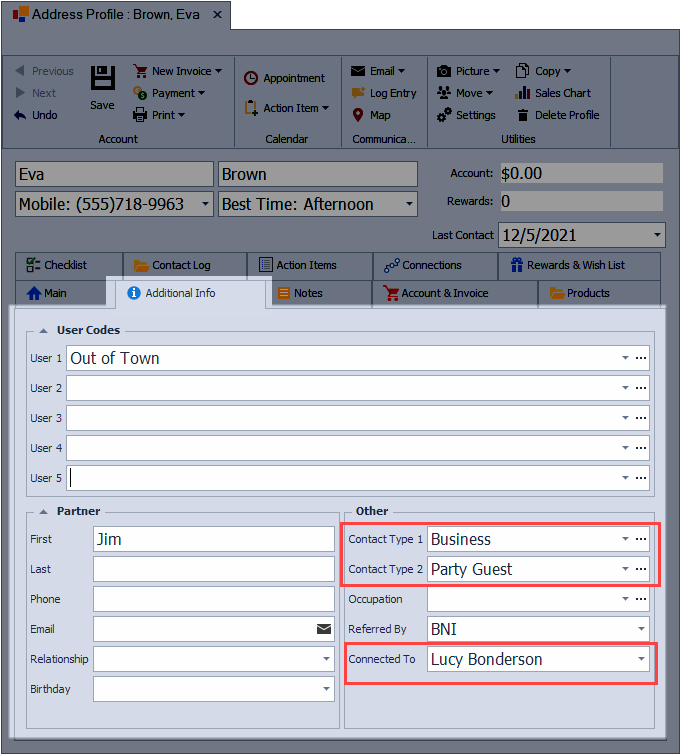 ---
Once you've decided on how to group or categorize the contacts, you can then filter your Address List as needed for additional functions (reports, email, List Builder, etc.).
Another option to organize your Address contacts is to link them to a customer or unit list contact. Once you've linked them, their name will appear on the customer or consultant's profile under the Connections tab. View
If you want to send a Group Email inviting your leads to an upcoming unit meeting, you can do that!
To take it a step further, you can then Create, Edit or Delete a Contact List from the List Builder, Create a Log Entry for Multiple Contacts, and even use the Filters & Column Sort.
We hope this gives you some insight and, even more, gets your creative juices going. Have fun with it! As you're setting it up, if you have questions or need further guidance, please don't hesitate to contact us!