From the Shortcuts form, click

Preferences (or from the Edit menu, select Preferences).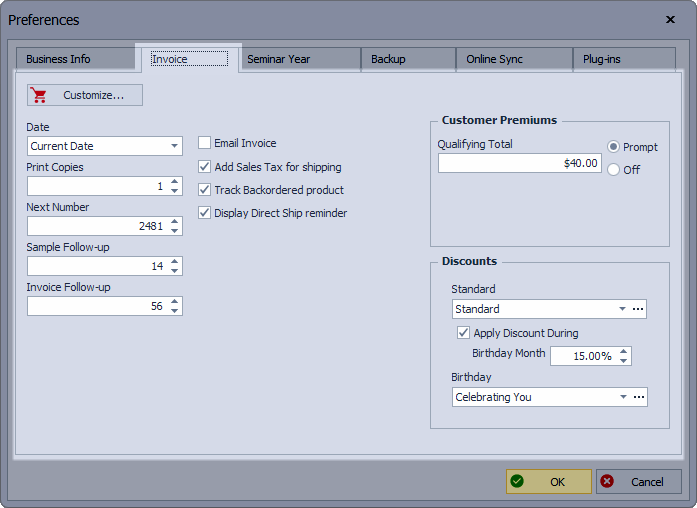 (1) Customize
Choose to customize what is printed on an invoice including the note, font style and color along with images, etc. (See Customizing Invoices & Adding Images for more information).
(2) Date
When creating a new invoice, choose whether the Current Date or Last Date Used is displayed by default.
(3) Print Copies
After creating an invoice, if printing, allows you to specify how many copies of the invoice are to be printed.
(4) Next Number
Displays the next invoice number
(5) Sample Follow-up
When adding a sample to an invoice, a task will be created in the calendar the number of days specified in the future af

ter saving the invoice

to follow up with them.
(6) Invoice Follow-up
A task will be created in the calendar the number of days specified in the future af

ter invoicing the customer to follow up with them to re-order. 

(7) Email Invoice
Choose whether invoices are emailed by default (See Email an Invoice for more information).
(8) Add Sales Tax for shipping
Choose whether or not tax is calculated on shipping.
(9) Track Backordered product
Choose whether to track when an item is invoiced to a customer that you do not currently have any in stock 
(10) Display Direct Ship reminder
When creating an EZShip or Guest Check invoice display a pop-up as a reminder that the items will not be removed from your current on-hand amounts and that an inventory order will automatically be created.
(11) Birthday Discount
If selected, during a contact's birthday month, they will receive a discount automatically when invoiced.
(12) Customer Premiums
Choose whether or not to be prompted to add a premium (gift with purchase) when a customer's invoice reaches the specified threshold amount.
---