An Unrecognized Database Format error or other similar errors usually occur when a backup file did not restore properly or if a Windows update has been installed and unexpectedly closes Boulevard during the process. If you are receiving this error, and do not have a current backup file or would need additional assistance, please contact us.
Step 1: Show hidden files and folders
In the search box on the taskbar, type

Show hidden files and then select it from the search results. View
From the Settings window that appears, under

File Explorer, click Show Settings. View
From View tab under Hidden files and folders, select Show hidden files, folders, and drives.
Uncheck Hide extensions for known file types, then click OK to save. View
---
Step 2: Locate the Corrupted Data File & Rename
In the search box on the taskbar, type

File Explorer, and then select it from the search results.
In File Explorer, navigate to the folder where your Boulevard data file is located, C:\Users\Your User Name\AppData\Roaming\Blvd.
Inside the Blvd folder, right-click on BLVD.MDB and rename it to OLDBLVD.MDB.
Navigate to your Documents folder, and if a BLVD.MDB is found, right-click and rename it to OLDBLVD.MDB.
Minimize or close File Explorer.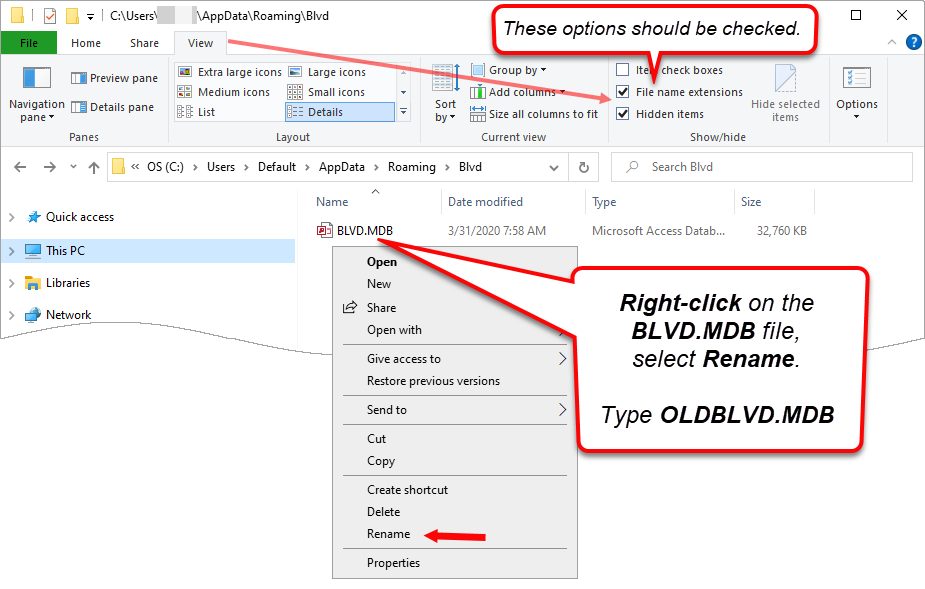 ---
Step 3: Restore a New Backup
Attempt to open Boulevard using your normal shortcut (it should open blank).
Proceed with Restoring a new backup (see Boulevard Default Data & Backup File Location to find the backup files Boulevard automatically creates when exiting the software).
If you receive the error again that indicates there is an issue with the backup file. You'll want to follow the steps from Step 2 to locate and rename the corrupted data file and rename it, then restore a different backup. If you cannot take a new backup, please Upload and Send Us Your Backup with a message indicating the issue and we will attempt to repair your data file.