The Account & Invoices tab on a contact profile lists all invoices and payments that make up their account balance. Invoices and payments posted are listed as separate entries. This tab also stores all historical payment information posted to the account.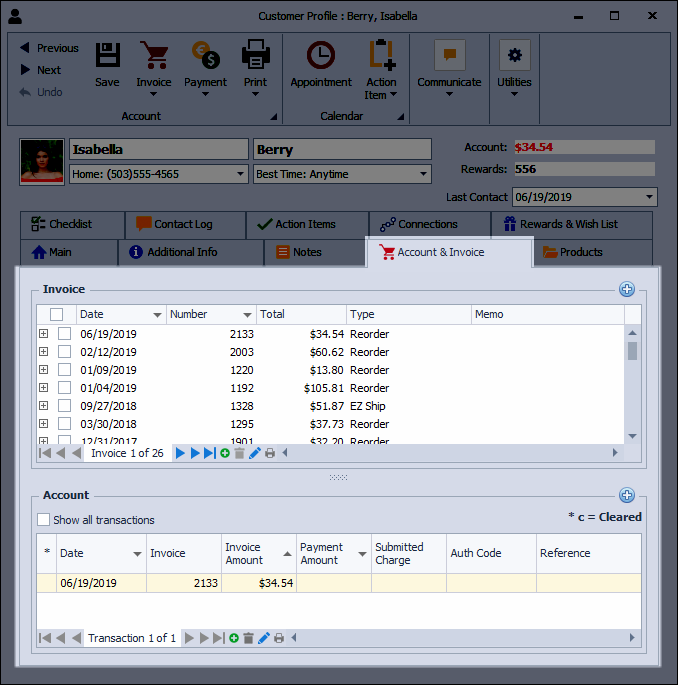 Invoices and Account Section Columns and Buttons 
Account:
Current account balance (in the upper, static section of the profile)
 or 
Create a new invoice (Invoices section) or add a payment (Account section)
Reverse (or delete) the selected invoice (Invoices section) or payment (Account section)
Edit the selected invoice (Invoices section) or payment (Account section)
Show all transactions:
If selected, all invoices and payments, including those that have been cleared (or posted to a specific invoice) will show.
Date:
Entry date
Number/Invoice:
Invoice number
Total/Invoice Amount:
Total from the invoice
Payment Amount:
Lists each applied payment
Type:
Invoice sale type
Memo:
Information added from the invoice directly or Credit Receivables form
Reference:
Displays the information entered into the Memo/Check# from the Payment form
Submitted Charge:
(Submitted Charge applies to credit card transactions only.)
No:  The payment has not been marked as received in Credit Receivables.

Yes: Payment has already been processed through your web site and Approved Credit Card was selected for the Payment Type, or Received Payment has been marked in Credit Receivables.
---